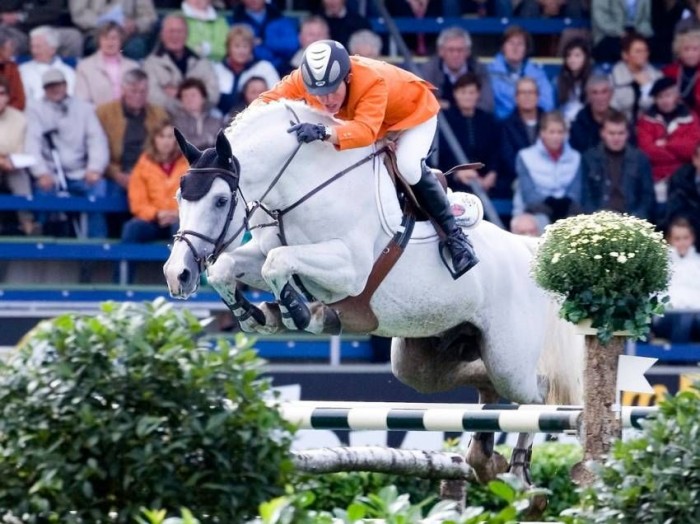 STALLION OF THE MONTH OCTOBER: BERLIN (CASSINI I X CARETINO)
Oct 28, 2021
Color: Mold
Year of birth: 1994
Height: 1.74m
Studbook: Holsteiner
Gender: Stallion
Character
Berlin was a beautiful horse to the eye. With his beautiful appearance, long legs, strength, athletic ability and work-willing character, he was a very nice stallion to ride but also to look at.
Offspring/pedigree
Despite the fact that Berlin was only approved as a breeding stallion at the age of 9, he was still in 5th place in the HorseTelex World Ranking in 2020. Unfortunately, he also died that year of old age.
Just after Berlin was approved as a breeding stallion, in 2015 he already had 170 offspring that jumped in international sport and that year they together accounted for 694,090 euros. Thanks to the many successful offspring in international sport, he is also highly placed in the Breeding Rankings.
Berlin is approved in various studbooks, including: HOLSTEIN, HANNOVER, KWPN, SELLE FRANCAIS, OLDENBURG and SBS.
A number of toppers of offspring of this beautiful stallion include:
Fionapina Colada, Jumper, Zerlin M and Glock's Brilliant Berlin

All offspring: https://www.horsetelex.nl/horses/progeny/8168
Exterior
Berlin was a long-lined gray stallion with a height of 1.74m. He stood pretty high on his legs.
Performance
This beautiful stallion passed away in 2020 at the age of 26 from old age. He has put in some great performances during his jumping career. He has won many prizes especially with Gerco Schröder.
A number of results from Berlin at a glance:
2004: 4th at the World Cup in Berlin
2004: 1st at the Verona GP
2006: Dutch Champion
2006: Gold at the World Championships in Aachen
2006: 1st at the La Coruna GP
2007: Gold at the European Championships in Mannheim
2008: 2nd at the CHIO in Aachen

Horsetelex: https://www.horsetelex.nl/horses/pedigree/8168/berlin