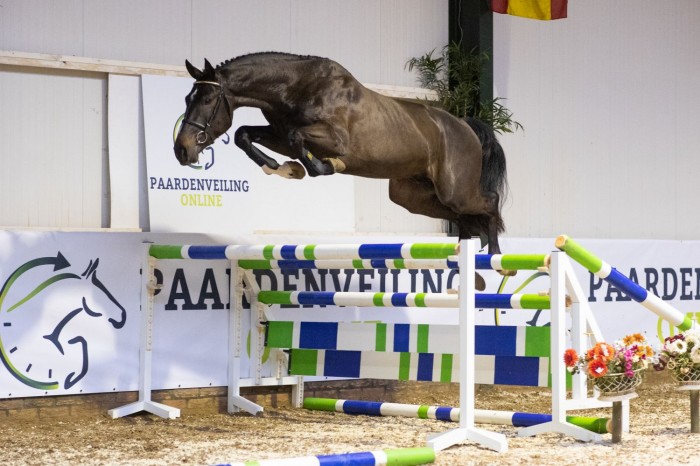 NIRVANNA EB WITH € 35,000 AUCTION TOPPER PAARDENVEILINGONLINE.COM
Jan 24, 2021
Nirvanna EB with € 35,000 auction topper Paardenveilingonline.com
Saturday evening the online auction of three and four year olds and some frozen embryos from Paardenveilingonline.com ended. The collection was notable for its well-bred and highly technical show jumpers and embryos with a dream pedigree. The first edition of the auction for 2021 went very well. A total of 25 items were put under the virtual hammer. The three-year-old stallion Nirvanna EB was the absolute top seller with € 35,000 and is moving to Austria.
Foreign interest
A number of horses and embryos were sold within the Netherlands, but interest from abroad was enormous again. New countries such as Austria, China and Guatemala could be welcomed among the buyers. Belgium, Germany, Poland, Great Britain and the United States were also well represented.
Nirvanna EB
Nirvanna EB is a three-year-old son of the Olympic stallion Apardi. He is bred out of the seven-year-old mare Jackpot EB (by Action Breaker), who made a strong international debut last fall. Under Thomas Lambert she has already won two international young horse tests and is classified at 1.35m level. After an exciting bidding duel, Nirvanna EB leaves for Austria for € 35,000.
€ 21,000
There was also great interest in the three-year-old gray mare Nena d'Obolensky. She has found a new owner in Great Britain for € 21,000. Sire Cornet Obolensky shined at the Olympic Games and is known as the sire of top show jumpers such as Clooney, Cornet d'Amour and Comme Il Faut. Dam's sire Vigo d'Arsouilles earned the coveted title of world champion in 2010 and has also built up an impressive legacy as a sire.
At Nozem, the virtual hammer was knocked down at € 19,000. With successively Eldorado van de Zeshoek, Tangelo van de Zuuthoeve and Jasper, this Nozem carries the performance blood of three outstanding Grand Prix stallions. He is a full brother of the 1.30m-classified Hocus Pocus F.E. and grandmother Floret has performed at 1.35m level herself. Nozem will remain in the Netherlands.
Guatemala and China
Another gray mare was in demand with the bidders. Three-year-old Nicolina GR exchanged owner for € 18,000 and leaves for Germany. Nicolina NR is a daughter of Nestor de Mariposa out of the well-tested NMK mare Julia GR (by Action Breaker).
Two horses were sold to Guatemala. The three-year-old stallion New York EB, one of the first offspring of the proven Grand Prix stallion Casallo Z, was sold for € 17,500. The four-year-old mare Maty Bella was also sold to Guatemala for € 16,000. Maty Bella is a daughter of Hampshire VDL out of the proven Bella line.
The promising Napoleon Bonaparte R.T. (by Diamant de Semilly) stays in the Netherlands for € 16,500, where he is further trained by a Dutch show jumping rider.
Two horses exchanged owners for € 14,500. The three-year-old stallion New Style Balou RT (by Balou du Rouet) has been sold to Germany. The four-year-old mare Myminka-V (by Il est Balou) is going to China for that amount.
Special guest
In this edition of the auction an approved d-pony stallion was also included in the collection, as special guest; Renkum Duns Are (Not) Done. This beautiful sturdy falcon is approved by the NRPS and has inherited his color, type and talents from the well-proven pony stallion Renkum Seigneur. Mother Bivanti (v. Viento Uno W) is a KWPNer that remained too small, but nevertheless performed well at 1.30m level. Renkum Duns Are (Not) Done has been sold to Belgium for € 8,500.
Quality for fair prices
The Horse Auction Online.com organization can look back on the first auction of this year with great satisfaction. "The auction went very well. We continued the line of last year and perhaps improved it by selecting even better for quality and guaranteeing fair prices. We had a nice collection with something for everyone and the horses are for different price ranges. The average price for the show jumpers was almost € 14,500 in this edition. We also had six promising frozen embryos in the collection. The average price here was € 7,000. These are very nice amounts. We are also very happy with the large interest from abroad. This continues to grow with each auction and we can always welcome new countries among the bidders and buyers. "
Other auctions 2021
Paardenveilingonline.com is organizing a total of seven auctions in 2021. Click here for an overview of our upcoming auctions.
Are you interested in selling your foal, embryo, broodmare or young jumping horse in one of the editions of the auction or do you have questions about the auction? Then click here.