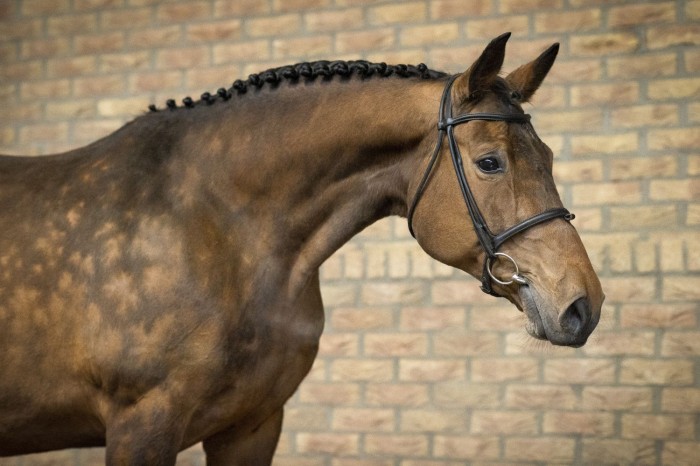 IMPLANTED EMBRYO HEARTBREAKER FROM ROOSAKKER LINE SOLD FOR € 17,500
Mar 1, 2021
The second auction of this year of Paardenveilingonline.com ended on Saturday evening. A beautiful collection with a total of 30 items, including young, but also (internationally) proven jumping bred broodmares and very interesting bred frozen and implanted embryos. New in this auction was the offer of three straws of semen from great jumping stallions who have more than proven themselves internationally.
Genetically interesting
For a top price of € 17,500, the implanted embryo of Heartbreaker from the strain of the famous Usha van 't Roosakker was sold to a Dutch buyer. This genetically interesting embryo is expected in mid-April 2021. Grandmother Levita van de Bisschop is internationally classified at 1.40m level and is one of the ten internationally performing offspring of Usha's daughter Evita van 't Roosakker. This exceptional pedigree has also been built up with only top progenitors.
Proven in breeding
The broodmare Cequita M (Diamant de Semilly x Cash) moves to Great Britain for an amount of € 14,500. Cequita M has already proven herself in breeding. Her oldest offspring is the seven-year-old international 1.30 / 1.35m-jumping Angel by Diamant Z (by Aimar van het Polderhof). She is a half-sister to several international show jumpers, including the highest-performing Wellington M (by Quidam de Revel) and the 1.40m-classified Bequita M (by Chin Chin). This year she is expecting a foal from the Olympic stallion Hardrock Z.
Four times € 10,000
The virtual hammer was knocked off four times at exactly € 10,000. This concerned three mares and a frozen embryo. First the international 1.45 mare Davidoff Silver Shadow (Mr Blue x Royal Fue). She is in foal to Tangelo van de Zuuthoeve before 2021 and is leaving for Great Britain.
The international 1.50m mare V Power of Heritage (Cardento x Zeus) has been sold to America. She has more than proven herself in breeding and is already the mother of several international jumping horses. V Power of Heritage is in foal to the Olympic stallion Hardrock Z.
The six-year-old Juliana (Berlin x Voltaire) is in foal to Eldorado van de Zeshoek and will stay in the Netherlands.
The frozen embryo of Chacco-Blue out of the Grand Prix jumping mare Sterrehof's Ushi (by Vido d'Arsouilles) was sold for € 10,000 to a Dutch investor.
Fair prices
The organization of Paardenveilingonline.com can again be very satisfied with the progress of the auction. "We are certainly satisfied, this auction also went very well. We have continued the line of last year and perhaps improved it by selecting even better for quality and guaranteeing fair prices. Again we had a nice collection with something for everyone and the horses were sold for different price ranges. The average price for the brood mares in this edition was over € 9,000. The average price for the embryos was almost € 6,500. Those are very nice amounts. Even now, interest from abroad among bidders and buyers was again very high. We look forward to the upcoming auctions for 2021. "