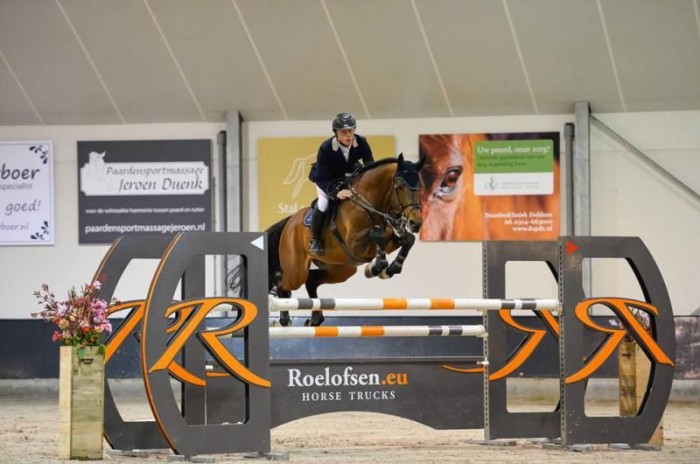 STALLION OF THE MONTH MARCH: ELDORADO VAN DE ZESHOEK (CLINTON Z X TOULON)
Mar 31, 2021
Color: Brown
Year of birth: 2004
Height: 1.76m
Studbook: BWP
Sex: Stallion
Character
This Belgian powerhouse is characterized by his enormous jumping ability. He is a bit cheeky and therefore does not always make it easy for himself. At home this stallion jumps carefully, but at competitions he can make himself very strong and he can sometimes be easily distracted. But he is certainly not careless because of that. It is a large horse with a strong character.
Offspring / Pedigree
Eldorado van de Zeshoek received the KWPN keur predicate in 2019! This impressive stallion is approved by the following studbooks:
BWP, NRPS, KWPN, OLDENBURG OS, HANNOVER, SELLE FRANCAIS.
The offspring of Eldorado van de Zeshoek all have enormous jumping qualities. They all excel in riding skills and thus inherited the enormous jumping ability from their father. Because this stallion has a jumping ability! It is not without reason that he received a 9.5 for his KWPN breeding license. This stallion also scores high on reflexes, with no less than a 9.
Some impressive descendants of Eldorado van de Zeshoek are:
Japatero VDM, Killer Queen VDM, Jeunesse and Jella van 't Kathof.
In addition, Eldorado van de Zeshoek also has three approved sons, namely:
Grandorado TN, Grodino and Highway M TN.
All offspring: https://www.horsetelex.nl/horses/progeny/174917/eldorado-van-de-zeshoek-tn
Exterior
Eldorado van de Zeshoek has a beautiful deep brown color. With its height of 1.76m it is a very impressive appearance.
Performance
This stallion has won most of the prizes with his regular show jumping rider Willem Greve. Especially 2015 was a TOP year for this fantastic team. Of course this stallion has many more beautiful titles to his name. These can be found in all the results achieved.
2015: 1st at the Grand Prize in Roosendaal
2015: 1st in the 1.40m in Roosendaal
2015: 8th at the NK in Mierlo
2015: 1st at the 1.50m Outdoor Gelderland
2015: 2nd in the GP of Saint Lô
All results achieved: https://horsetelexresults.com/horseTelex/extern/159033
Semen from this impressive stallion can be ordered from, among others:
http://keesvandenoetelaar.nl/nl/paarden/Eldorado-van-de-Zeshoek-Clinton-x-Toulon
https://www.team-nijhof.nl/paarden/eldorado-vd-zeshoek-tn/
https://www.arjanbekkers.nl/nl/eldorado-van-de-zeshoek
Horsetelex: https://www.horsetelex.nl/horses/pedigree/174917/eldorado-vd-zeshoek-tn